Back to Calendar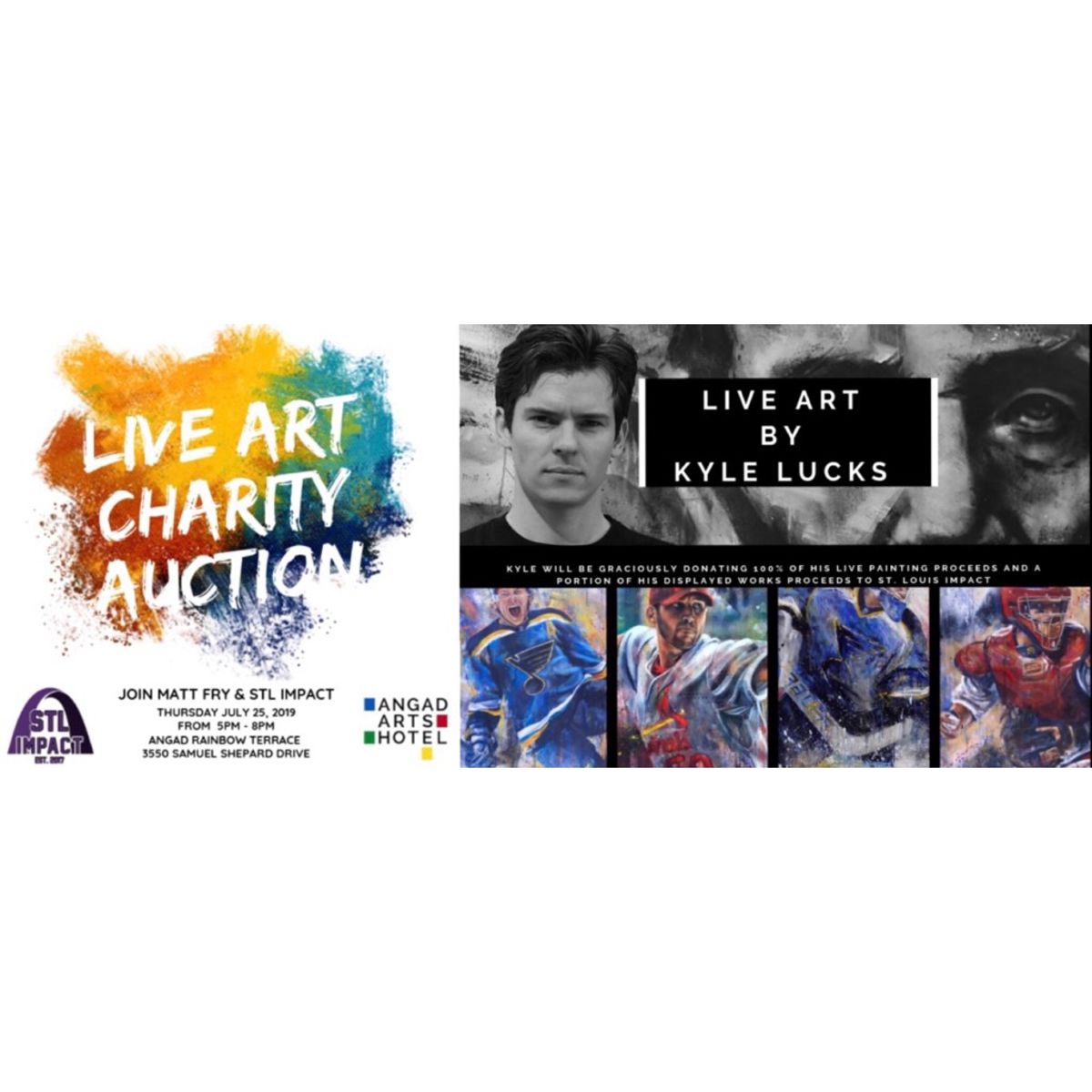 St. Louis Impact Live Art Charity Auction featuring LIVE art by Kyle Lucks
Thu Jul 25
5pm
@ Angad Rainbow Terrace
Matt Fry and St. Louis Impact team up with Kyle Lucks Art and Angad Arts Hotel for our inaugural Live Art Charity Auction benefiting St. Louis Impact.
Please join us on Thursday, July 25th from 5 to 8 p.m. at Angad Arts Hotel, as we unveil our plan to start offering financial assistance to all St. Louis youth athletes in need, no matter their sport or organization.
Kyle Lucks will be painting a piece live throughout the event and will be auctioned off that evening, he has graciously offered to donate 100% of the proceeds of that piece to the St. Louis Impact. Kyle will also showcase several of his completed works in the building that available for purchase, a portion of those proceeds will be donated as well.
St. Louis Impact is a 501(c)(3) non-profit founded in 2017 by Matt Fry, Kyle Brannam, and Sherron K. Rives to ensure all athletically gifted children can play select baseball. With the cost of youth sports rising each year, many kids can't afford to participate or compete with inferior equipment and training. St. Louis Impact has never turned away an athlete because of money.
https://www.stlimpact.com/about-us
Kyle Lucks was born to create. He was the kid that was always constructing, sketching, modifying – using anything he could to bring his imagination to life. He comes from a lineage of artists, therefore much of his talent can be attributed to the creative environment he grew up in. When he wasn't playing sports, he would draw from photographs in sports books to the point where he could re-create images from memory.
At age 12 one of Kyles hockey drawings was featured in a Sports Illustrated publication. This accomplishment, paired with a passion for sports and a talent for visual art, solidified his calling to become a professional artist.
Today Kaile specializes in large scale portraits of athletes, musicians, entertainers, and historical figures. He is inspired by their fierce dedication to their craft, and the energy and focus it takes to be successful at the highest level. With every piece, Kyle strives to capture the emotion within the moment, whether it's a touchdown celebration or an acoustic performance.
He is proud to have his work hanging in sports stadiums, restaurants, corporate offices, and the homes of private collectors
---
RSVP HERE
---